Nissan LEAF Electric Vehicle and vehicle-to-grid (V2G) bidirectional charger now available to a resident at an affordable housing complex in Boston's Dorchester neighborhood
V2G program earns revenue from the local utility by sending energy to the grid or to a building, reducing cost to operate an EV
BlueHub Energy, part of the national nonprofit community development financing organization BlueHub Capital, and Fermata Energy, the country's leading vehicle-to-grid (V2G) services provider, today launched the first V2G pilot program for multi-family affordable housing in the nation designed to increase affordable access to electric vehicles (EVs) for low-income drivers. The effort was kicked off in collaboration with Enterprise Holdings, a leading provider of mobility solutions that manages the Enterprise, National and Alamo car rental brands, and Codman Square Neighborhood Development Corp. (CSNDC), a grassroots community organization committed to developing affordable housing and fighting for racial and economic justice in Boston.
The new pilot pairs V2G bidirectional charging with the Nissan LEAF EV to tap into the car's battery as an alternative, clean energy source for CSNDC's Girls Latin Apartments, an affordable housing complex in Dorchester, Massachusetts. This pilot will enable Kelvyn Lopez, a resident of the apartment building, to utilize the vehicle on a month-by-month basis with a low-cost rental.
Lopez, an avid supporter of EVs, will be on hand at the launch event 10 a.m., on Sept. 19, 2023 at Girls Latin Apartments (45 Centre St., Dorchester). As part of the pilot, Lopez is able to use the car freely except during limited summer hours when it must be plugged in to the charger to support peak power demands, like on hot afternoons when building cooling systems are running.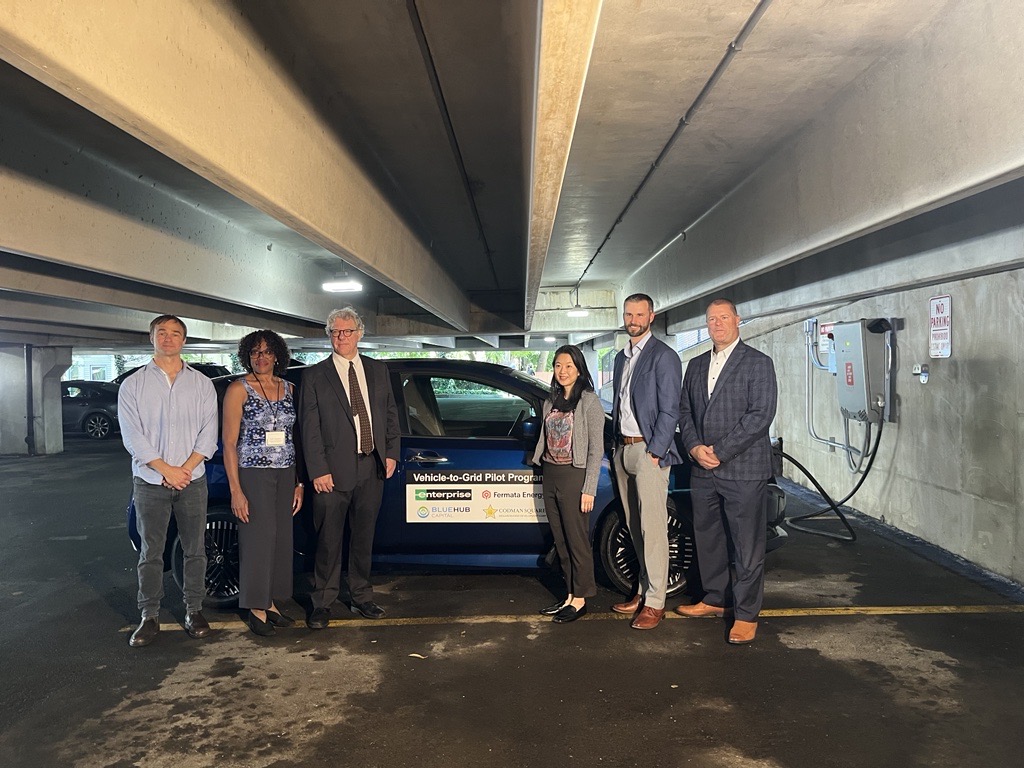 "Communities like mine are being left behind in the transition to electric vehicles in so many ways," said Kelvyn Lopez, the driver participating in the new pilot program. "At the same time, we're burdened the most by pollution, the price of gas and the rising costs of living in Boston. I've watched the cost to fill up my tank nearly double in the past few years. I wanted to get an electric vehicle but there was nowhere to charge it overnight near my apartment in Dorchester. I am really excited about this opportunity to bring EV charging to my neighborhood and to share what we learn with the community."
The pilot aims to increase the use of EVs in environmental justice communities by lowering the costs of an EV for a driver and eliminating the costs for affordable housing developments to host charging infrastructure.
The V2G pilot earns roughly $3,000 per year from local utility company Eversource through its Connected Solutions Demand Response program. BlueHub, Enterprise and Fermata Energy are subsidizing the cost of the EV as BlueHub tests the most efficient ways to scale the pilot.
"As cities and states take steps towards a cleaner and greener future, we must place equity at the center," said BlueHub Capital CEO Elyse Cherry. "Too often, the communities that stand to benefit most from environmentally conscious policies are left out. Our new pilot program will bring low-income communities into the electric vehicle transition."
Massachusetts, along with 6 other states including California and New York, will end the sale of new gas-powered vehicles by 2035. Massachusetts' clean energy and climate plan calls for decreasing transportation emissions by 86% from 1990 levels by 2050, including a goal of having over one million electric vehicles on the road by 2030. BlueHub Energy's pilot aims to ensure that environmental justice communities are not left behind in the clean energy transition as states across the US ramp up efforts to reduce greenhouse gas emissions and fight climate change through ambitious EV goals.
"The transition to electric vehicles has largely bypassed low-income communities thus far, many of which are more likely to experience the negative effects of climate change," said DeWitt Jones, President of BlueHub Energy. "Our goal is for communities with lower incomes to be early participants in the adoption of electric vehicles by employing a scalable model to tap utility savings to lower the costs of an EV and reduce regional emissions and local pollution. Pilot programs like the one we've formed with Fermata Energy, Enterprise and CSNDC have never been more urgently needed to equitably tackle the climate crisis at hand."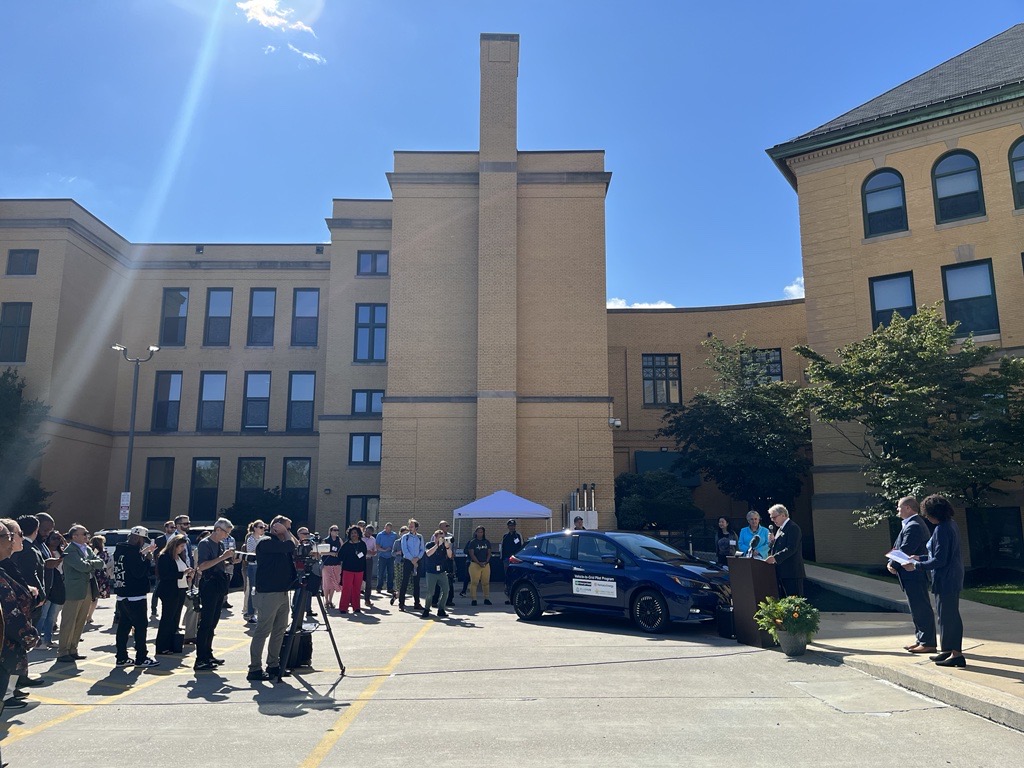 Gail Latimore, Executive Director of CSNDC, agreed to host the new pilot because she sees the positive impact on local residents. "This is consistent with our longstanding work in environmental justice, ensuring that our communities don't get left behind," said Latimore.
"Every community, in every state, deserves access to electric vehicles. The integration of vehicle-to-grid technology reduces the operational costs of EV ownership and bolsters our grid with a higher infusion of renewable energy. At Fermata Energy, we're deeply honored to be a part of a pioneering collaboration that will set the precedent for making EV adoption affordable and widespread across the US," said Tony Posawatz, CEO of Fermata Energy.
Fermata Energy's V2G bidirectional charging platform manages the EV's state of charge and both charges and discharges the EV battery. The company's cloud-based, AI-driven software platform analyzes thousands of rapidly changing data points, such as weather and utility data, to identify times an EV can earn revenue by sending some of the energy stored in the EV's battery to the grid or to a building. In periods of heightened demand—like sweltering summer afternoons when cooling systems are in overdrive—utilities often require additional energy. These crucial moments, known as "earning opportunities," offer EVs the chance to contribute their stored energy back to the grid. Eversource pays EV fleet and car owners with V2G bidirectional chargers to send energy to the grid during those times when electricity demand is high.
"Delivering an outstanding customer experience drives our electrification strategy. It's not just about adding EVs into our fleet. It's about looking long-term at infrastructure and expanding power and charging viability to support an equitable and inclusive electric future," said Chris Haffenreffer, Vice President of Strategy Development for Enterprise Holdings. "Collaborating with Fermata Energy and BlueHub to bring this pilot to life and explore the viability of V2G charging in a low-income area aligns perfectly with our electrification efforts. It's an amazing opportunity for the broader community, and it will provide valuable information for future infrastructure planning."
The V2G pilot is the latest initiative from BlueHub Energy that increases low-income communities' access to clean energy through employing creative financing models.
A portion of BlueHub's participation in the pilot program is funded by a grant from the Opportunity Finance Network.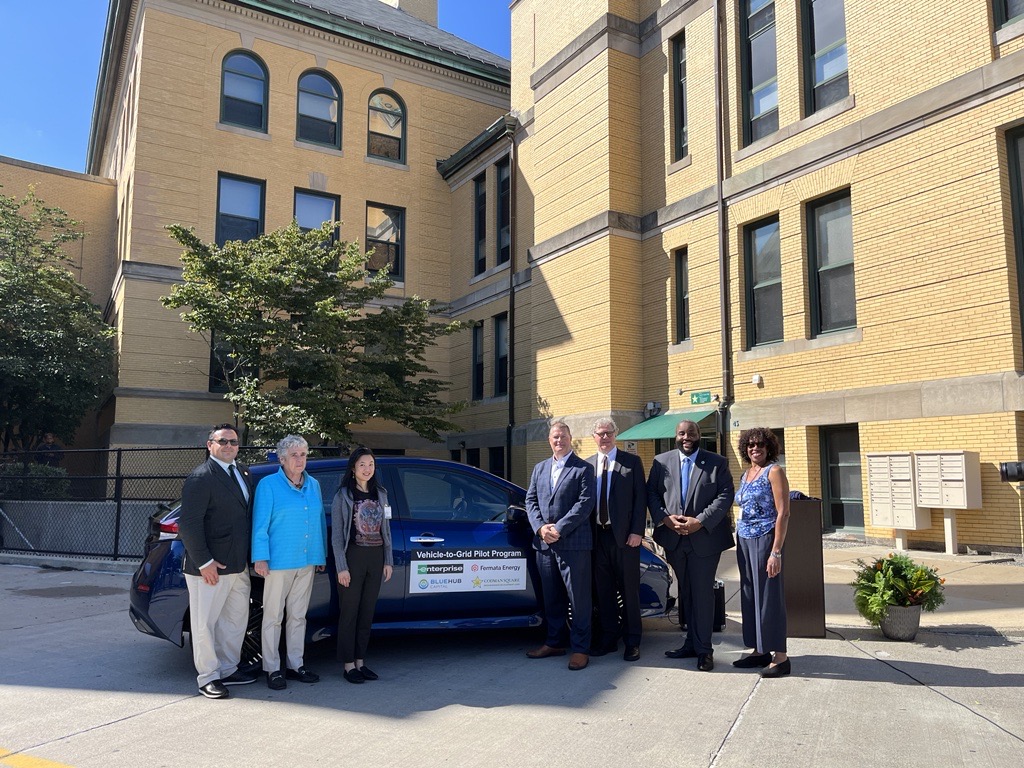 ###
About BlueHub Energy & BlueHub Capital
For 15+ years, BlueHub Energy has developed and employed solar financing models that have lowered utility costs at affordable housing complexes, reduced regional emissions, and generated returns. In some cases, BlueHub Energy has cut electricity costs by 50% and combatted price spikes. BlueHub Energy has also advocated for policy changes that remove barriers to affordable solar energy for low-income communities across Massachusetts. BlueHub Capital is a mission-driven, nonprofit community development finance organization focused on building healthy communities where low-income people live and work.
About Enterprise Holdings
Enterprise Holdings is a leading provider of mobility solutions including car rental, fleet management, carsharing, vanpooling, truck rental, luxury rental, retail car sales and vehicle subscription, as well as travel management and other transportation technology services and solutions, to make travel easier and more convenient for customers. Enterprise Holdings' subsidiaries and franchisees, together with its affiliate, Enterprise Fleet Management, manage a diverse fleet of 2.1 million vehicles through an integrated network of more than 10,000 fully staffed neighborhood and airport rental locations in more than 90 countries and territories. Privately held by the Taylor family of St. Louis, Enterprise Holdings manages the Enterprise Rent-A-Car, National Car Rental and Alamo brands.
About Fermata Energy
Park it. Plug it. Profit.TM Fermata Energy's proprietary vehicle-to-everything (V2X) bidirectional charging platform turns EVs into batteries on wheels, enabling EV fleet owners to earn money from their local utility. With managed bidirectional charging, utilities can add EVs as grid edge resources to increase resilience, easily add them to virtual power plants, and avoid building new peaker plants. V2X includes V2G (vehicle-to-grid), V2B (vehicle-to-building), and V2H (vehicle-to-home) installations. Fermata Energy is a technology agnostic developer of AI-driven bidirectional charging platforms. Learn more at www.fermataenergy.com and follow us on LinkedIn.
About Codman Square Neighborhood Development Corp.
Our mission is to build a cohesive and resilient community in Codman Square and South Dorchester, develop affordable housing and commercial spaces that are safe and sustainable, and promote economic stability for low- and moderate-income residents of all ages.